Regular price
€200,00 EUR
Regular price
Sale price
€200,00 EUR
Unit price
per
Sale
Sold out
In this online course, you will learn the basics of my Finding Flow concept. No previous experience in acrobatics/gymnastics/dance is required. If you are new to the world of 'Movement', start here.

Description

In this program we will work on elements close to the ground, which can serve as transitions between individual movements – for example rolls in all directions. In addition, body perception and strength/stability of the body are challenged and trained. Elements from acrobatics, such as Macaco or the Cartwheel present you with a mental challenge that must be overcome through practice. At the end of each session, all the movements learned are combined and sequenced, which is ultimately intended to create a "Flow State" with practice – the mind remains silent, the body takes over.

Besides new movement patterns and tricks, you also learn to control your body and work on suppleness and elegance.
Content

• Warm-up exercises and warm-up routine for Acrobatics
• Coordination and proprioception tasks: "Pivoting" and "Book Balance"
• Introduction to Floor Transitions and Rolls
• Introduction to Locomotion/Crawling
• Introduction to "Soft Acrobatics" (Cartwheels, Macaco, Armswipe, ..)
• Sequences in which learned content is combined into small flows
• Specific Strength and Mobility Training for Acrobatics
Program Features

• Easy to use and neatly designed PDF
• Dynamic and modular Practice structure for 6-12 weeks (+continuation) for 2-4 sessions a 45-90 minutes per week
• Written Practice Reflections: "About Practicing" and "Diving into the Floor"
• High Quality Video Breakdowns of all Moves
• lifetime access to all contents and material
• step by step approach to all Techniques, Sequences, Conditioning Exercises, Warmup - Online learning done right!
FAQ

How long do I have access to the material and program?
-> You can keep the Program forever.

Are the videos downloadable?
-> All videos are uploaded as not-listed to YouTube, downloading is possible but not recommended.

Are these follow-along type classes?
-> This program offers great and in depth breakdown videos as well as follow-along style classes.

What experience do I need for this program?
-> No experience needed at all. You will be introduced to all necessary tools. Still, you will learn plenty as an experienced mover as well!
Share
View full details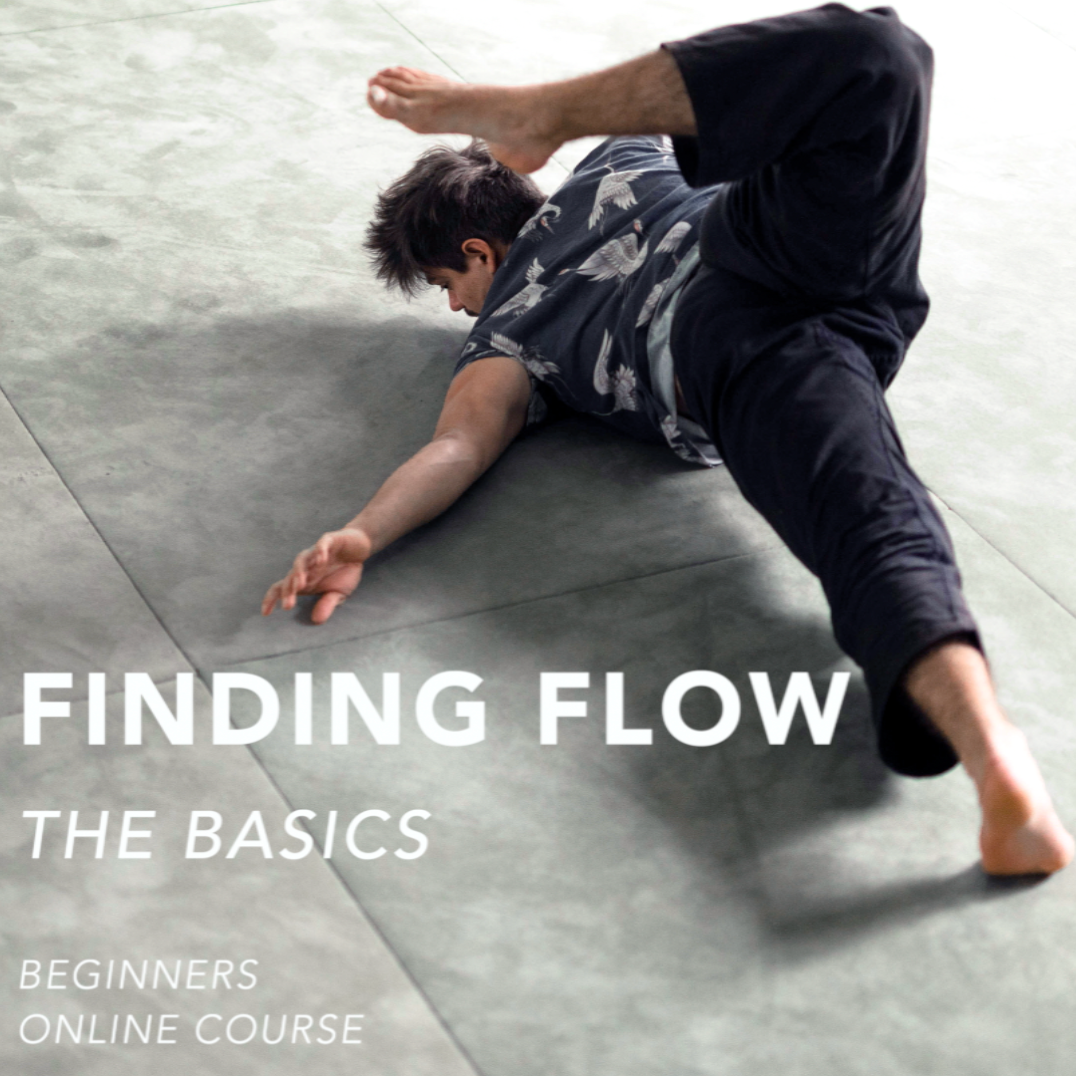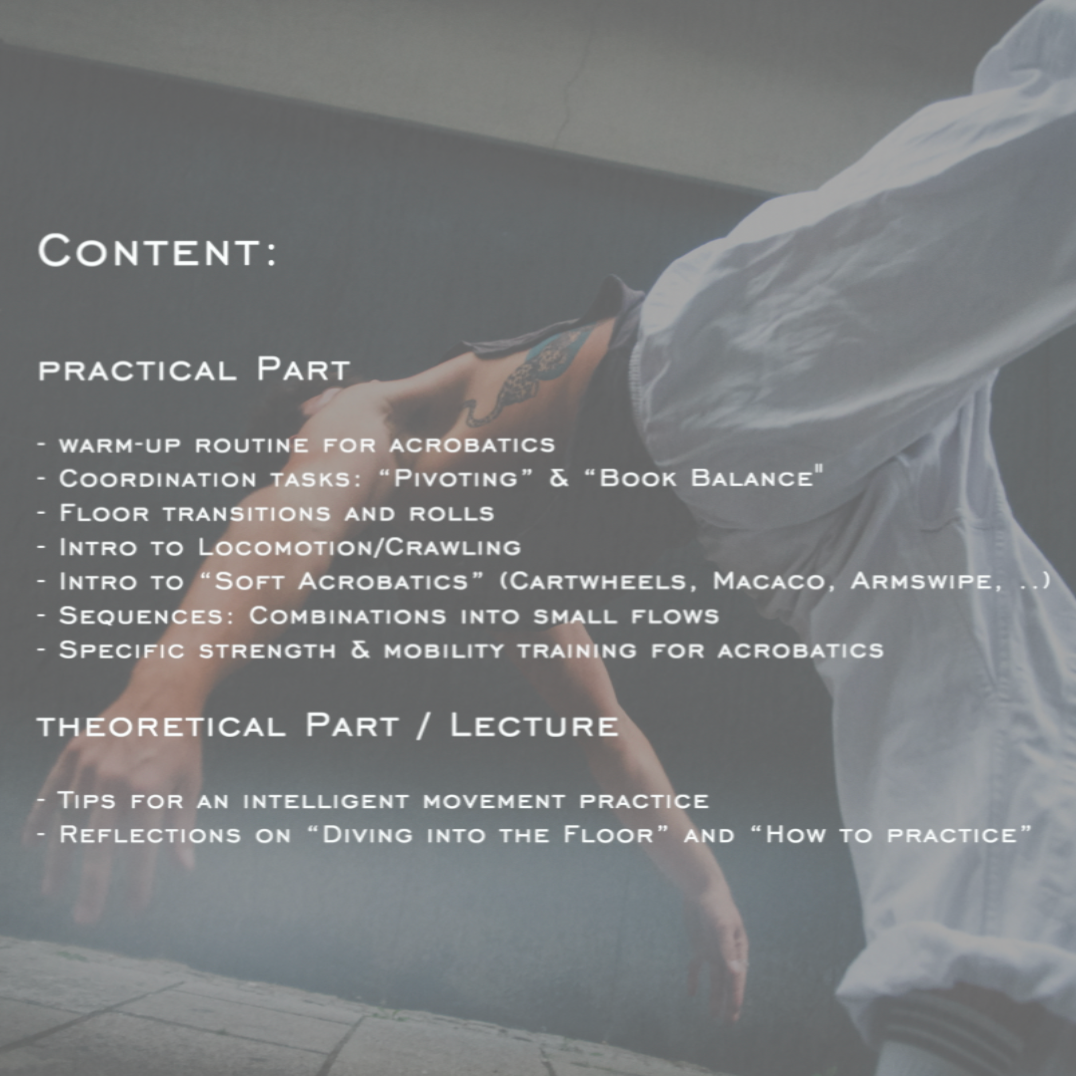 Solid acrobatics foundation
The content of the program is easy to follow and the movements are very well explained. The warm up has a unique approach and the coordination exercises are very fun to do. Above all, I'm very grateful to Nil for sharing his knowledge.
I want that too
After meeting Nil for the first time at a workshop and seeing the suppleness in his movements, it was clear that I also wanted to find the flow. The foundation for this is laid in this program, in which you learn lots of really beautiful moves. Nil builds up the progressions very well and you can see visible success after a few weeks.
Great program to start soft acrobatics
After I joined Nils Finding Flow workshop I realised that I want to learn more about acrobatics and of course I wanted to learn from Nil. I love his approach towards movement and in this course there are plenty of topics which can enrich your practice and make it deep and enjoyable! Even though it called Basics, there are some movements like Macaco, which I enjoyed a lot! Overall the course is very flexible and allows to practice at your own pace. Highly recommended!
Building confidence, foundations and beyond!
As I started to invest more in my movement practice during the rise of "movement culture" the acrobatic side was always really appealing and interesting for me. And I've since slowly found myself more in the contemporary dance world and I work now as a dance pedagogue and artist on stage. My first experience with Nil was in 2018 and I have since practiced via his online programs on and off. As I don't have a formal dance education I think my time under Nil was a big contribution by improving my foundation and it gave me selfconfident to become a professional dancer.
I've just recently invested in "the acro Lab" program and it looks very exiting.
- Tsz-Hin
I definitely don't want to miss it!
As somebody in his forties, my intention of movement is not a competitive one. I used to do martial arts, performance-oriented running, weight training. But as injuries came, my goals shifted over to longevity, joy in movement, experiencing my body, softness, play, getting old and moving supple without losing strength. I found inspiration for all these aspects in Nil's courses - for my needs it's like coming home. I think anyone can join his courses, there are no restrictions but possibilities for every person. Nil is one of the most authentic teacher I know - he lives what he teaches with every cell. And so joining his courses is not only about movement but transports this spirit of humor, ease, spontaneity, liveliness, hardly to explain. I love it and I definitely don't want to miss it!