Regular price
€200,00 EUR
Regular price
Sale price
€200,00 EUR
Unit price
per
Sale
Sold out
In the second part of the Finding Flow course series you will learn a continuation of "Soft Acrobatics" as well as sequencing different movements. We will also look at how to perform movements more effortlessly and how to integrate more flow into the practice. This course is aimed at graduates of the "Basics" course as well as movers who already have a base layer understanding of acrobatics (nothing fancy).
Description

During the six weeks we will learn five new acrobatic patterns and variations of them: "The Jaguars" (advanced cartwheel variations), "Sideroll and Swirlroll", "Butterfly Kick". We will also explore how to move fluidly, efficiently and effortlessly from the floor to standing and back again. Different concepts will be introduced that will lead to more flow and creativity in these levels. However, the focus of this course is on sequencing individual movements, i.e. creating "phrases". Many ways of finding transitions between movements will be presented. In addition, participants will be given the task of developing their own sequences from the presented set of movements, thus gaining a sense of momentum, movement flow and movement options.

By the end of this course you will have developed a versatile movement vocabulary that can greatly enrich a creative movement practice.
Content

• Warm-up exercises and Warm-Up routine for acrobatics
• "Continuity Studies" – What makes up fluidity in movement?
• Continuation of soft acrobatics ("The Jaguars", "Sideroll", "Butterfly Kick")
• Over 20 mini sequences consisting of at least 2 movements
• Video analysis of different elements
• Specific strength and mobility training for acrobatics
Program Features

• Neatly organized and well designed PDF
• Dynamic and modular Practice structure for 6-12 weeks (+continuation) for 2-4 sessions a 45-90 minutes per week
• Written Practice Reflections: "Integrations" and "About Efficiency"
• High Quality Video Breakdowns of all moves and material
• lifetime access to all contents and material
• step by step approach to all Techniques, Sequences, Conditioning Exercises, Warmup - Online learning done right!
FAQ

How long do I have access to the material and program?
-> You can keep the Program forever.

Are the videos downloadable?
-> All videos are uploaded as not-listed to YouTube, downloading is possible but not recommended.

Are these follow-along type classes?
-> This program offers great and in depth breakdown videos as well as follow-along style classes.

What experience do I need for this program?
-> No experience needed at all. You will be introduced to all necessary tools. Still, you will learn plenty as an experienced mover as well!
Share
View full details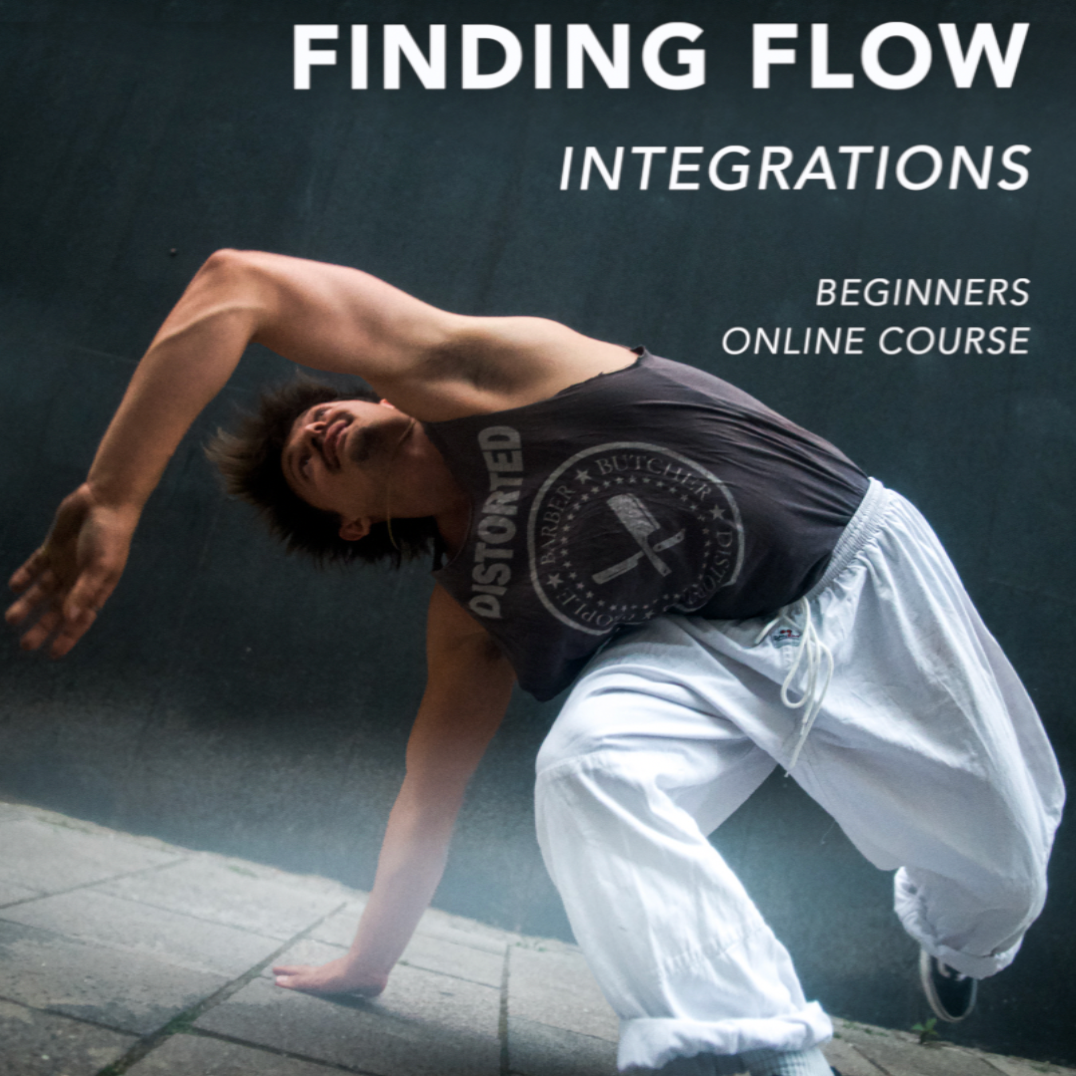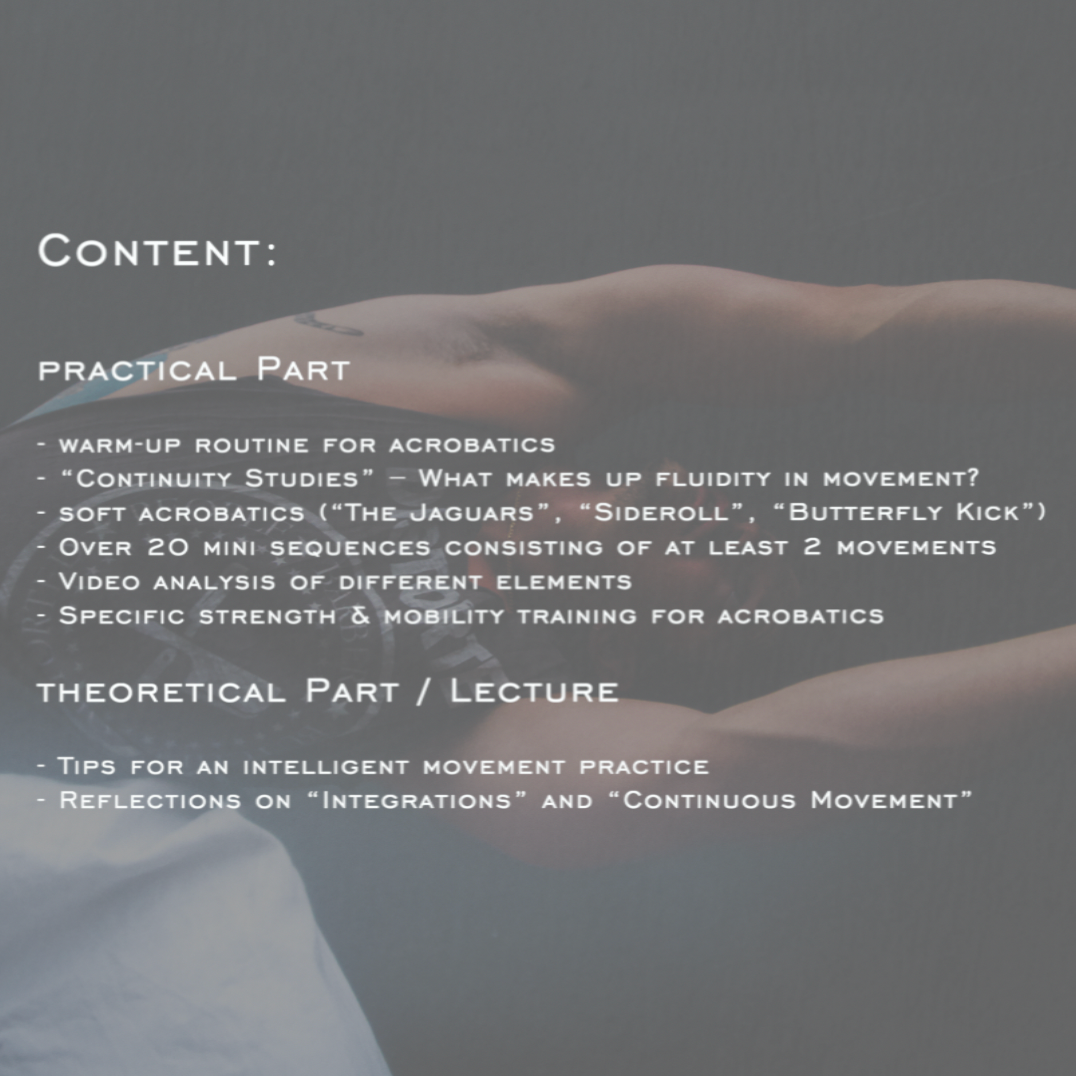 The Flow continues!
After the "Basics" program, I was very motivated to continue with "Integrations". This course is also very well structured and Nil gives great advice for all kinds of problems. You can definitely tell that Nil experiments a lot in his own practice and knows how to achieve your goals. Really a skilled teacher!
Great course for integrating movements
Enjoyed this course a lot! There are so many sequences to explore and to intergate! There are also new movements there to learn and to combine with what was learnt in the Basics. Very nice made, with a lot of humour, deep understanding of movement and every you need to know about your practice. You can practice it for much longer than six weeks, there is so much to try and explore! Definitely recommend!
Let the journey begin
First, practical things: Nil's course material ir very well organized, very good quality, accessible, clear with no unnecessary verbiage. It's really clean, well thought out guidebooks (talking about the whole series).
Now, a bit personal: For me Nil has been a movement big brother, and even if I have met him once or twice, the course material and the way I connected with him through it speaks probably for the value of such course.
Now about the material and Nil's approach, through my eyes: Nil, I have sense has a holistic understanding of movement that doesn't fall into one-sided monotonous single skill learning, achievement oriented formats (although if you want to learn a helicoptero and spin it in front of audience, this course will do the job great for you as well). Nil is doing it throught at least couple of ways. Examples include: periodically suggesting coming back to the basics and refining, diving deeper in what seems insignificant sub-elements or more basic forms. Also, introducing elements of play, elements to work with quality of movement, and finally how it all can be turned into sequences, phrases and you finally can create your own tunes. For this, Nil's courses have been for me a solid foundation and branching out, and I wish him to keep up what he is doing. And if you are considering the course, for the money, you get a superb quality course. Furthermore, you get a certain vision, because it is done for the movers, by the mover, and I can attest, with love and passion. :) Enjoy
Without any doubts the best online training program!!
I completed a few online courses with Nil and this one is one of my favourites!
The way he conducted it was fantastic, I truly felt that I gained something of all the informations he gave me. He always addressed all of my questions, the grading system, as well as helped the troubleshoot mastery of skills.
He always took his time to explain everything well, making you always feel comfortable with the informations being given.
Very very happy.
Recommend it to all people, doesn't matter on which level or age you are starting☀️