Regular price
€279,00 EUR
Regular price
Sale price
€279,00 EUR
Unit price
per
Sale
Sold out
This online program bridges the gap between basic acrobatics/locomotions/floor moves to a deep practice of said content. In this program we'll deep dive into acrobatic techniques and their studies, sequences and continuity/flow research as well as plenty other concepts which will enrich your movement vocabulary and generally your practice.
Description

The Acrobatics Lab is the most detailed and rich course of mine and frankly, of probably any other acrobatic program you can find out there. It includes not only written reflections on the theory behind acrobatics, fear and trust management or learning tools but contains material to study with for the next months and probably years to follow. You'll be first introduced to "Stem Cells" - the building blocks, the foundation of everything acrobatic. Later, you'll apply all that you have learned in various scenarios: from sequences to open form tasks, technical studies and more.

The program is made up of three learning blocks which each allow for 4-8 weeks of practice: Rooting Deep, Growing Tall and Branching Out. All the blocks consist of five categories: Arching and Inverting Acrobatics, Rolls and Floormoves, Airbornes and Kicks, Conditioning Tasks and Creative Studies. In every block, you'll receive new material for all categories.

Of course the material is presented in high quality video breakdowns, text and illustration. The PDF that you'll receive is beautifully designed, neatly organized and intuitive to use. You'll receive practice structures and plenty of tips not only for the what (content) but also the how (learning process).



This program comes in two versions:

Full Version: For Trainers, Teachers, for Practitioners interested in diving deep and studying in depth all that the program has to offer.

Including 60+ Videos (over 7hrs of material) and extra chapters.

Arches and Rolls Version: For practitioners especially interested in learning how to arch, invert and roll. This program is reduced to only these categories as well as some creative studies. All Floorwork and Airborne Acrobatics (Kicks and Jumps) as well as some of the Creative Studies are left out in this one.

Including 40+ Videos (over 4,5hrs of material)
Content

• Intro to the Acrobatic Perspective
• About Trust and Fear
• Tools for Learning
• Follow Along Type Warmup + Cooldown
• Rolls and Floor: from basic to intermediate and advanced rolls, spins, slides (over 20 techniques)
• Arches and Inversions: from basic to intermediate and advanced shapes and moves (over 20 techniques)
• Airborne Acrobatics: from basic to intermediate and advanced kicks and jumps
• Various Sequences in which learned content is combined into small flows (over 11 Microsequences, plenty short ones)
• Conditioning (Strength and Mobility) for an Acrobatic Practice and Longevity
• Plenty Creative and Open tasks to enrich your practice with detail and texture

List of Moves (not complete): Basic Rolls, Rolling Variations, Diamond Roll, Twistroll, Coindrop, Falling Acrobatics, Butterfly Kick + Variations, Tornado Kick, Raiz, Armswipe, Forwards Arch, Jaguars, Coin, Macaco, Reversao, Forwards + Backwards Cartwheel, S-Dobrado, Gumbi + Variations, Helicoptero, Acrobatic Hybrids, Floorspins, Armspinning Acrobatics, Pivots and Spins
Program Features

• well designed, nicely structured 57 page PDF
• high quality video breakdowns of all content
• in depth articles and theoretical background
• practice tips and tools
• material that can be studied and unraveled for many months to come
• lifetime access to all contents and material
• step by step approach to all Techniques, Sequences, Conditioning Exercises, Warmup - Online learning done right!

Disclaimer: this program is not recommended for total beginners. Please look at my Finding Flow Basics or Integrations program. Also, the videos are not presented in a full follow-along structure. Everything is being broken down but I am not guiding you through a full class in every video.
FAQ

How long do I have access to the material and program?
-> You can keep the Program forever.

Are the videos downloadable?
-> All videos are uploaded as not-listed to YouTube, downloading is possible but not recommended.

Are these follow-along type classes?
-> No, the programs offer great and in depth breakdown videos but not in follow-along style.

What experience do I need for this program?
-> The Acrobatics Lab is not recommended for total beginners, better start with the Basics or Integrations program. It starts slow but then really goes deep - recommended for people with a basic understanding in acrobatics, floor practice and moving freely. Also recommended for dancers and other professionals wanting to improve their acrobatics.
Share
View full details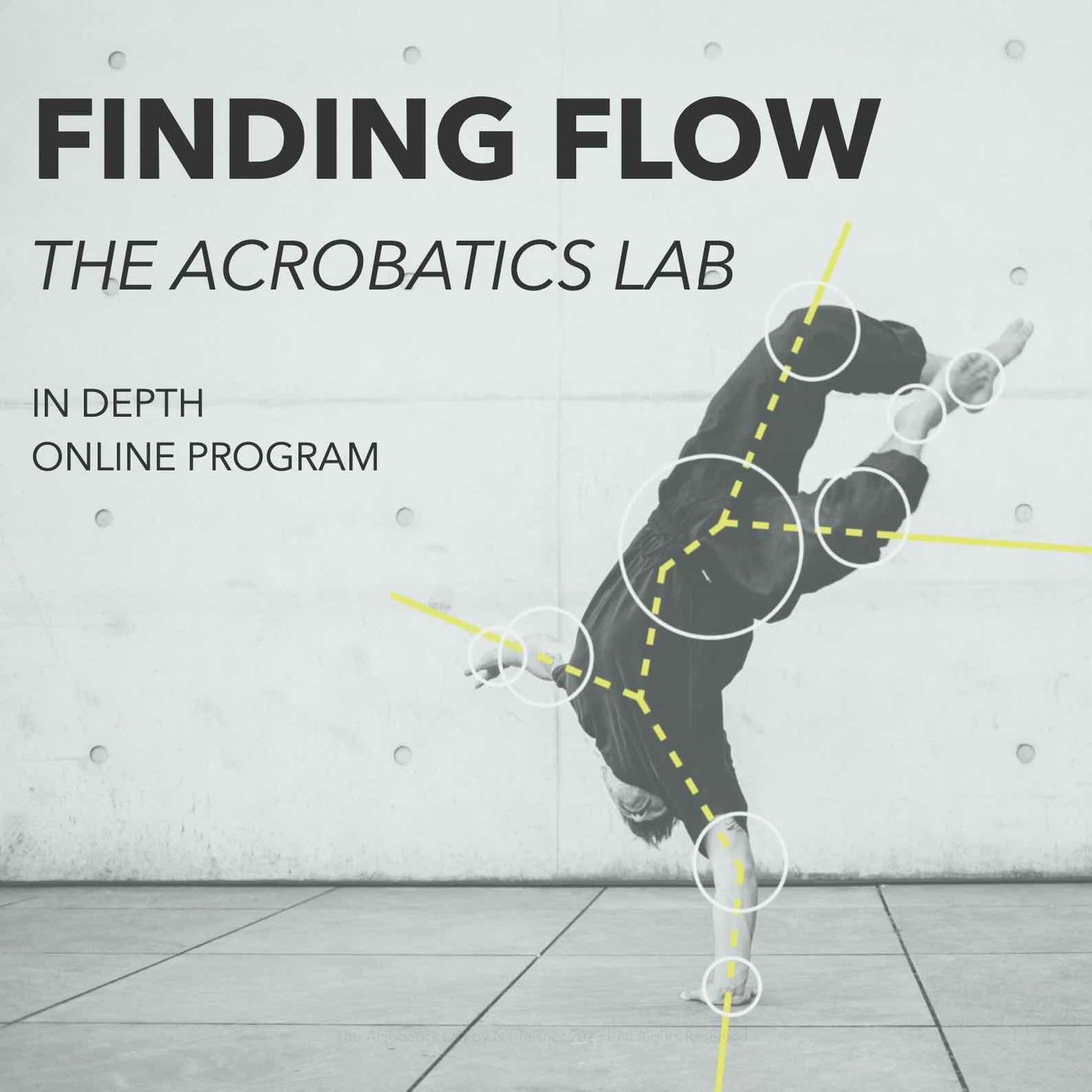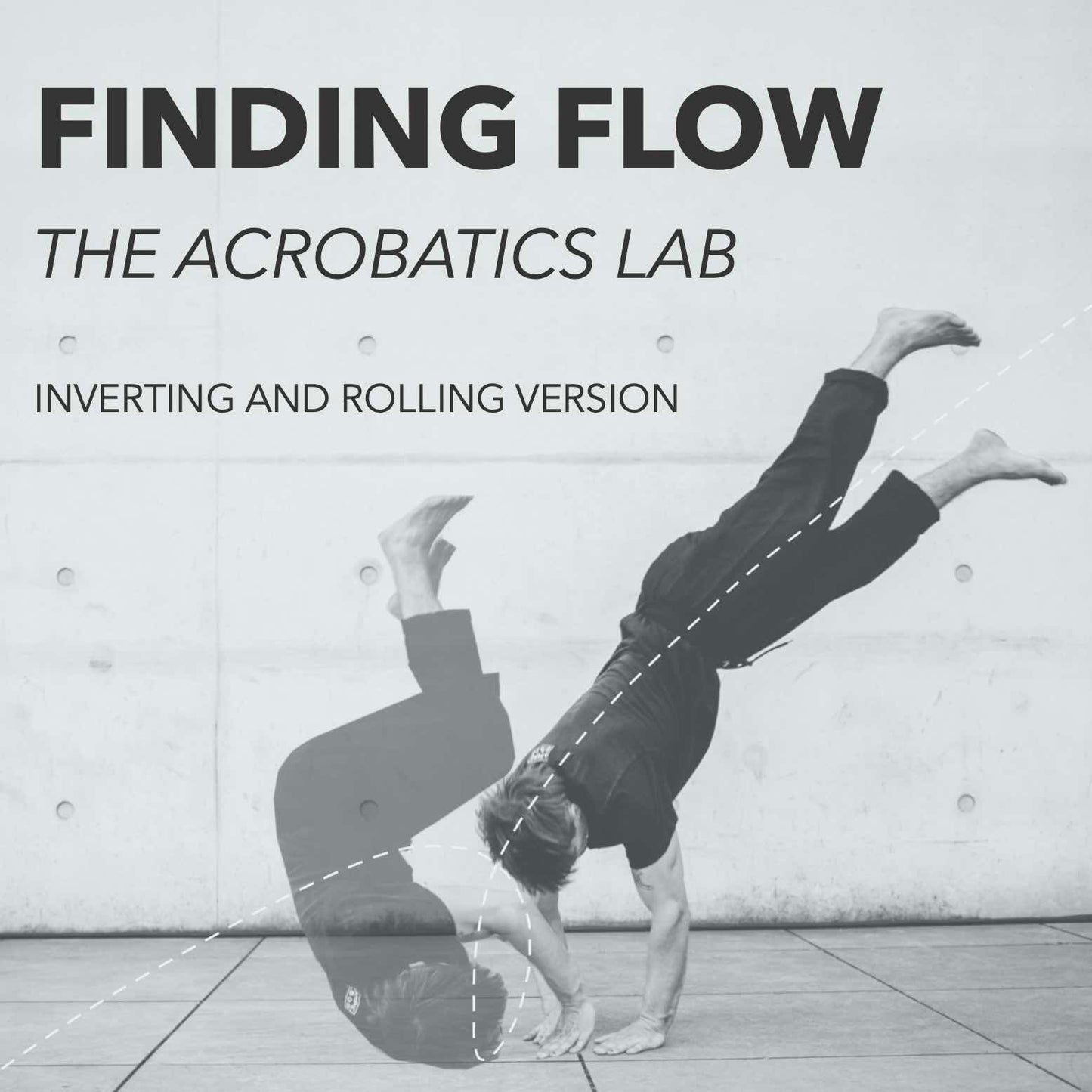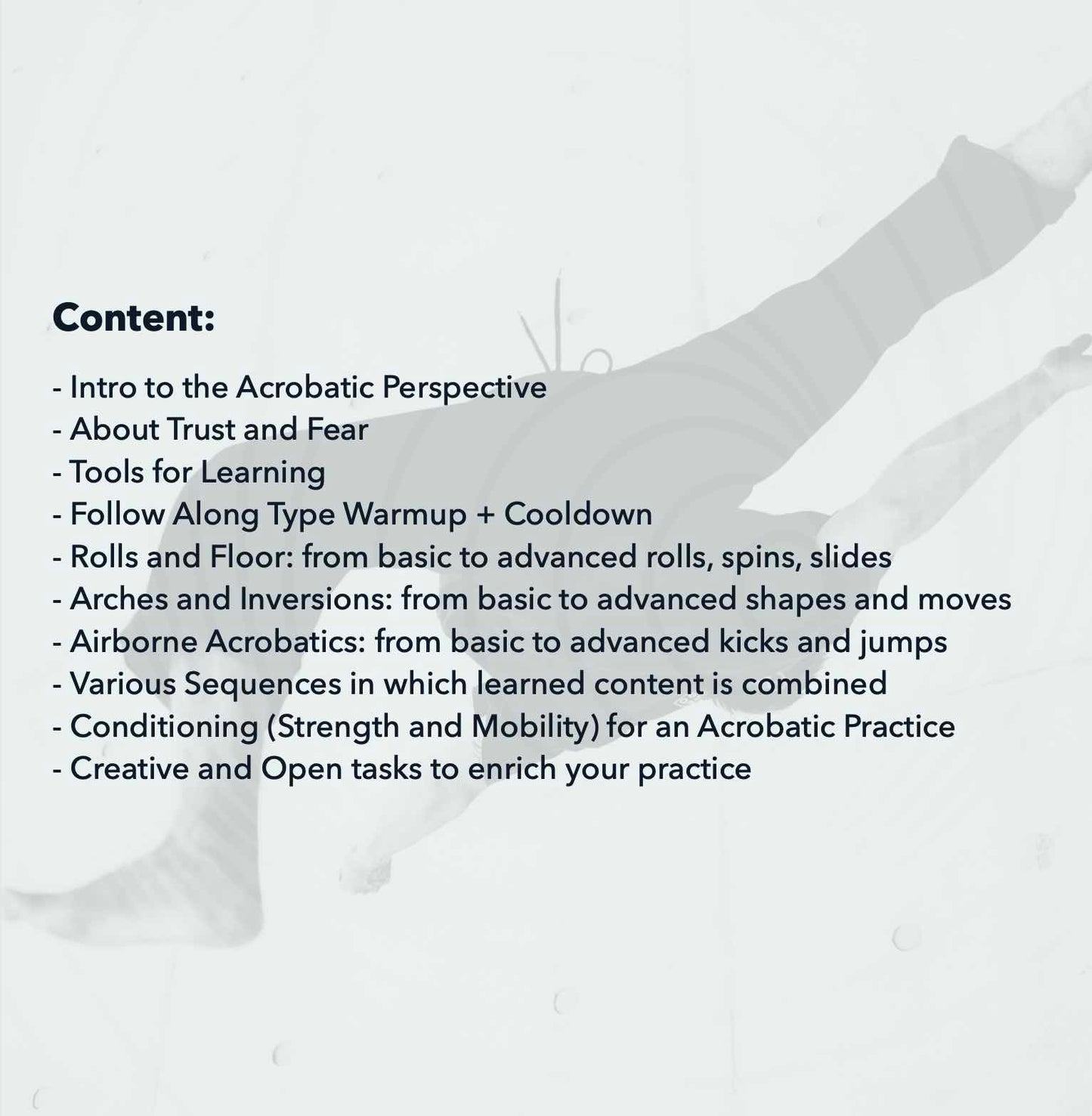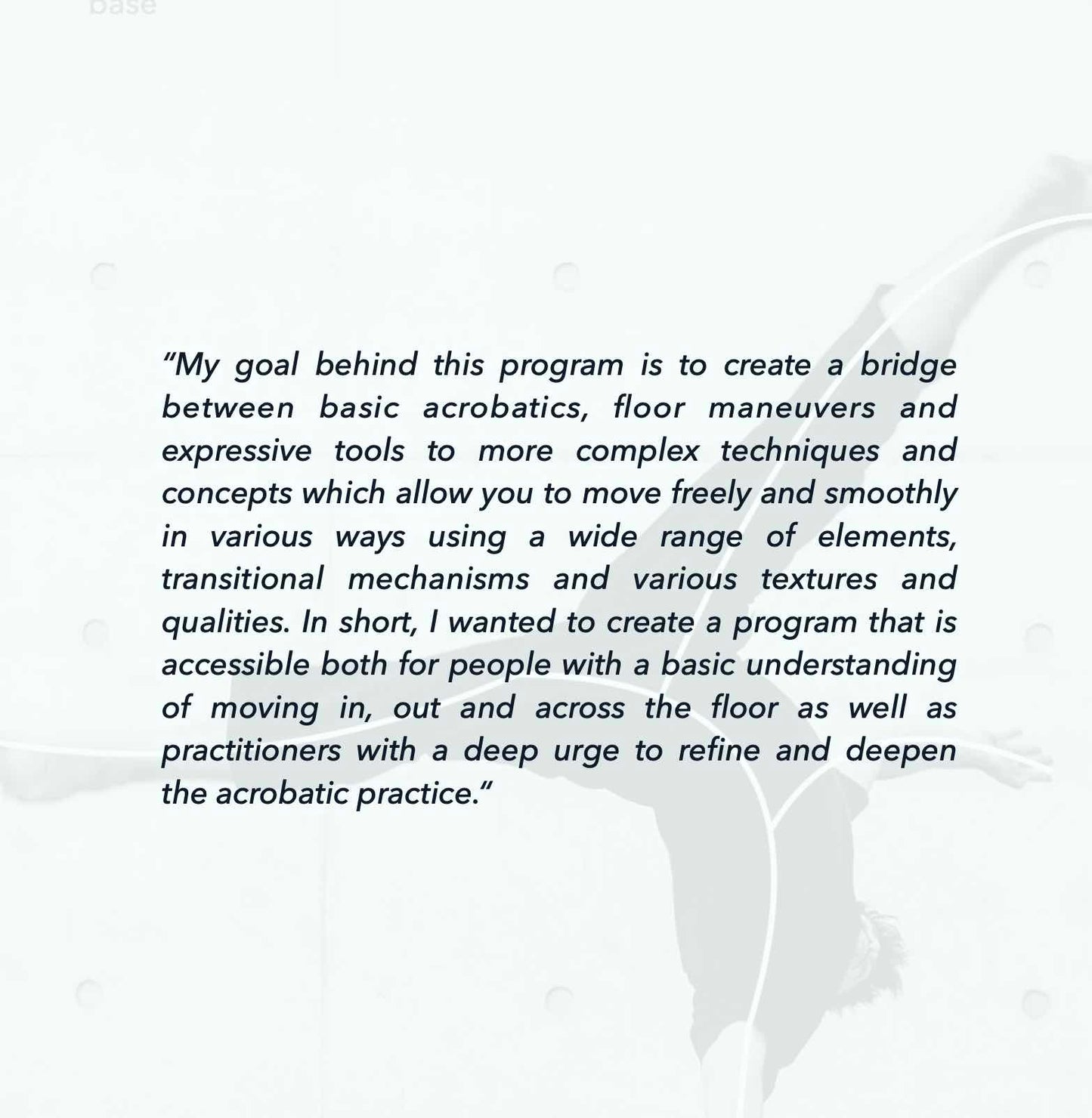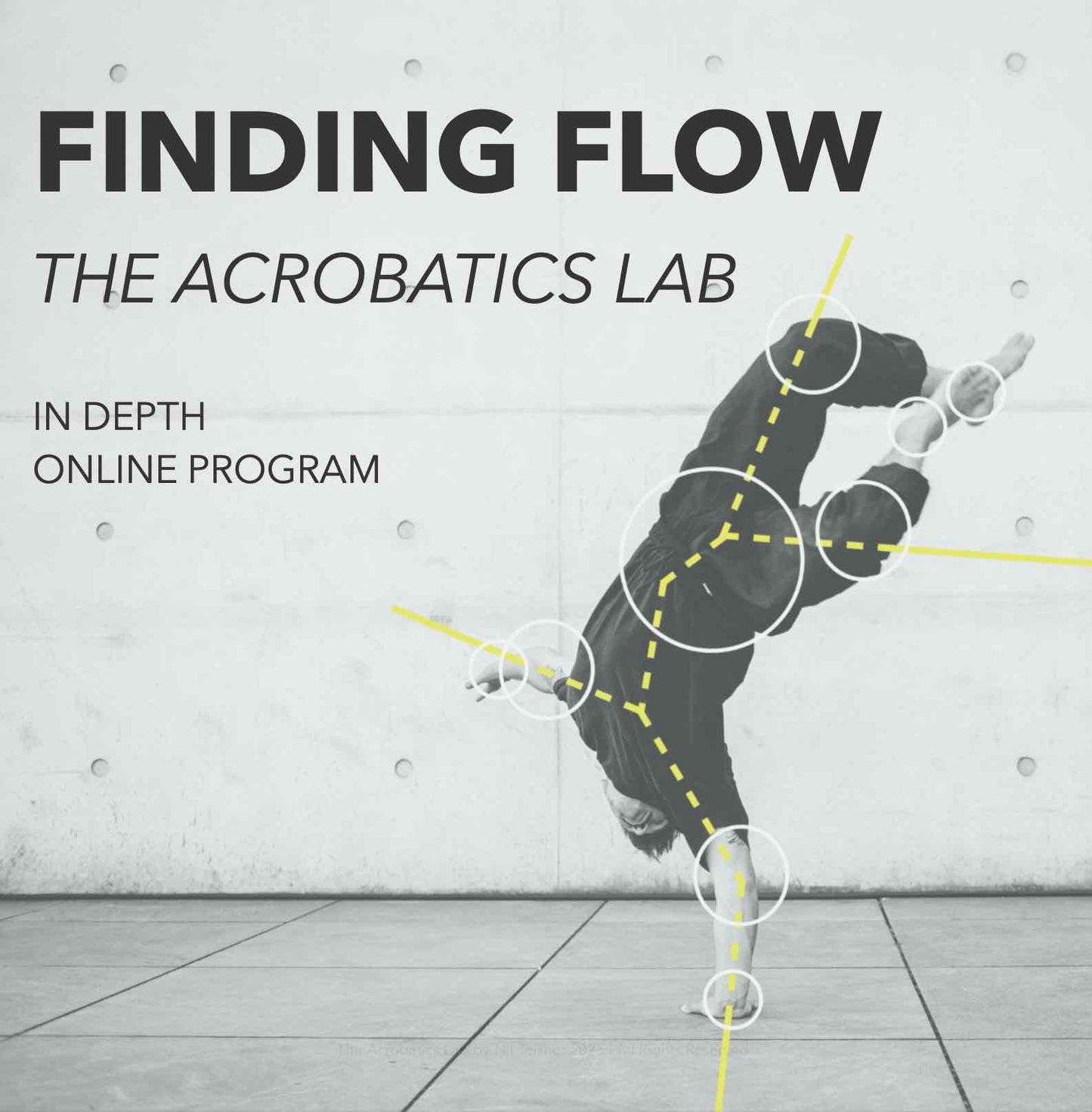 A map out of the world of Acrobatics
This one's something alright, I can't even imagine the time put into the making of this. A lot of clear instructional videos, a well-thought-out curriculum, and material that will last for months ahead. The content is versatile and one can really choose to branch out and explore in many directions at one's own pace and form the level one's at.
Nil was one of the few who introduced me to dance and acrobatics, and I've been influenced by his teachings a lot through the years. He has a good way of making complex things graspable and it seems... always in an amusing, exciting way that just makes you want more!
- Marcus Otter
a very good investment!
The Acrobatic movement practice is super interesting to me, but at the same time I did not know where to begin or how to practice certain moves or flows. That's why I bought the Lab and I have to say I love how Nil is breaking down all the moves with all the little details and provides different levels to progress through the moves. You can tell that the program is very well thought through. Thank you Nil!
This is pure movement wisdom
I already worked with most of Nil's programs and enjoyed every one of them. But I must admit, this here is by far the best movement and acrobatics program I have ever seen. It is structured but can still be used in a chaotic way, it is very clear but gives a lot of room for own interpretations, it is perfect for beginners but also for very advanced people. I am amazed how much effort Nil put into this.
Go and get it if you are interested in movement or learning something about your body and mindset. You won't regret it!
Enjoying the movement journey
In life everything moves.
I realy love to move in an artistic manner. I allways did and i never stoped. Since i met Nil i found his way to live his pession very inspiring. And so is his program "The acrobatics lab" . Full inspiration !
On the first day i started to experiment with it and i found a lot of satisfaction to glue everything together.
If you are a practitioner or teacher or both you will realy like it. And if you are a beginner, take your time and maybe try some basic programs. Lolo
Invitation to a practice not just a program!
Wow, this is absolutely amazing!
Reading and going through the material provided in this program, my head and body are really moved. The depth, experience, and hard work that Nil put into this program are amazing!
Thank you, Nil, for sharing the culmination of your work and experience. As soon as I recover from an injury, I'm looking forward to diving into this practice, because that is what is being shared here. Not just a collection of movements, but an invitation to dive into a practice. Really looking forward to it.
Thank you Nil
David 'Rafa'