Falling and Rising
Craft essential falling and rolling skills, learn how to overcome fear, build trust in yourself and engage in a versatile movement practice via this online program.
Falling and Rising is a full length and highly detailed PDF format online program which aims to equip students with tools to approach fear in a safe way and contains many falling skills and techniques which can be applied in various disciplines and falling situations.
Falling and Rising Online Program
Regular price
€250,00 EUR
Regular price
Sale price
€250,00 EUR
Unit price
per
Sale
Sold out
View full details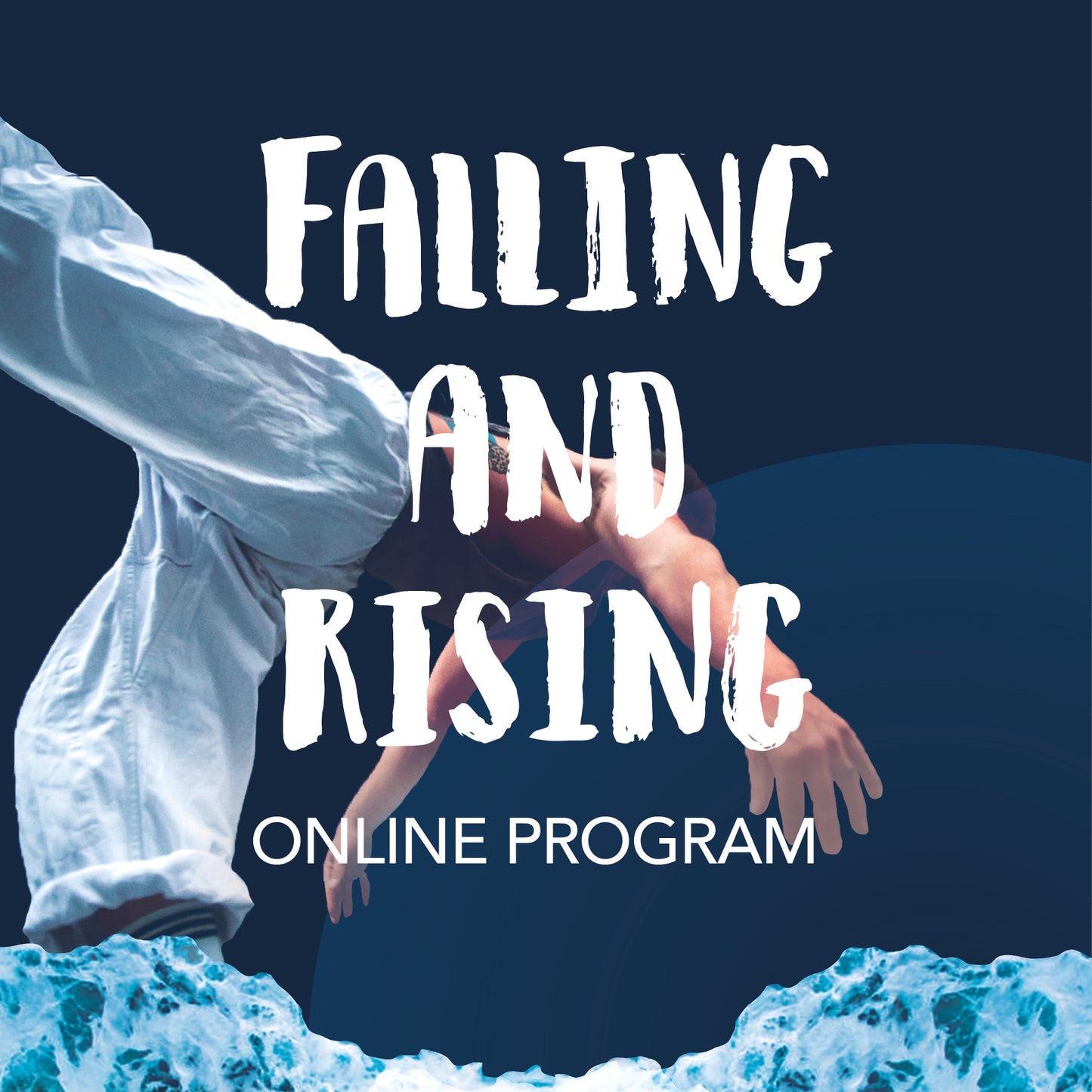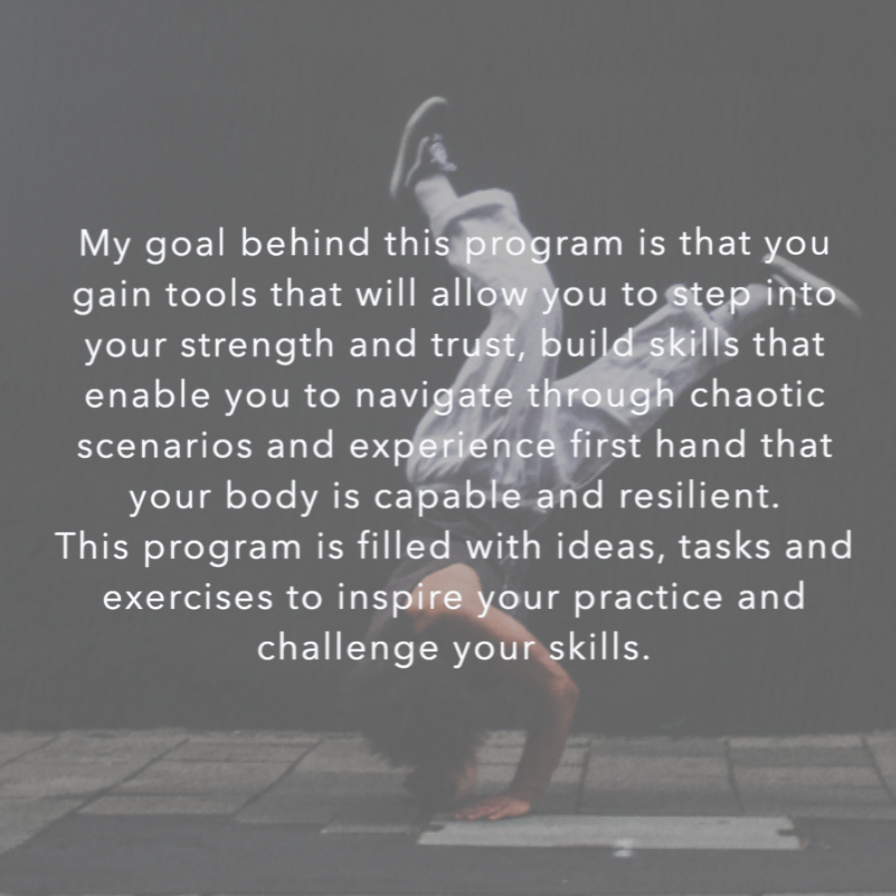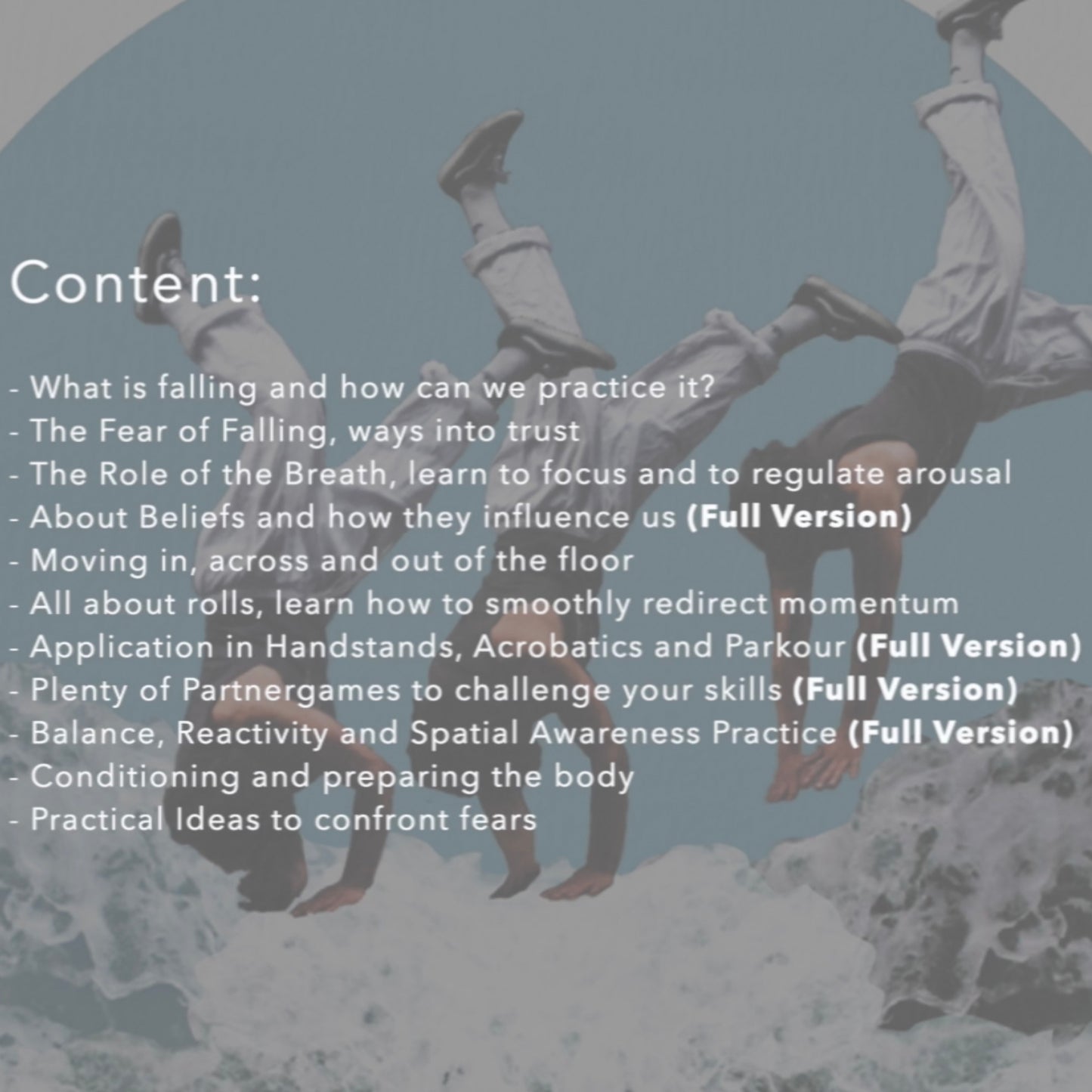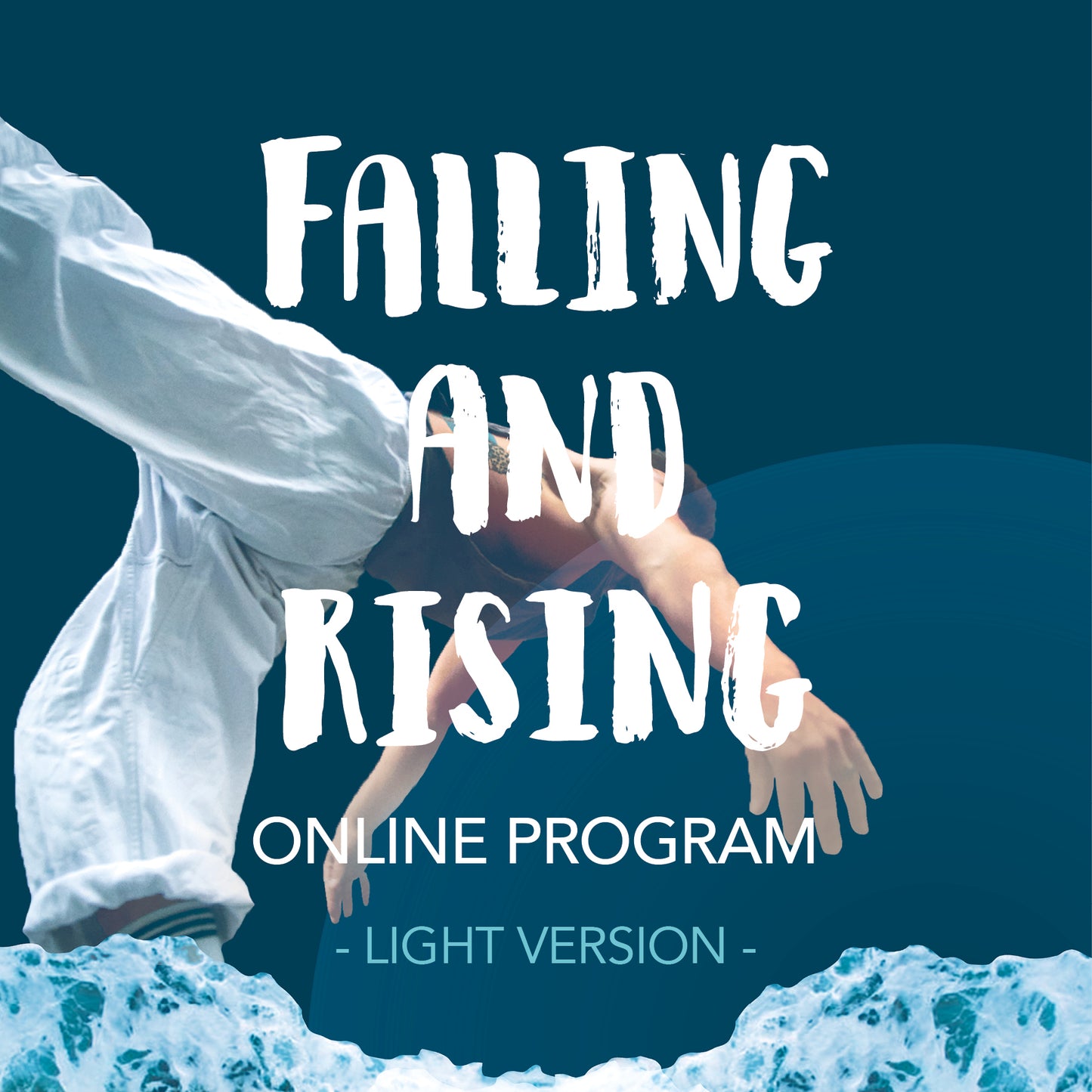 Choose your version
Full Version

For Trainers, Teachers, Therapists interested in helping students/patients overcome fear and guiding them towards a well rounded movement practice, for practitioners interested in diving deep and studying in depth.

Including 13 Classes (over 5hrs of material) and an extra in depth article about self beliefs by Flynn Disney.

Choose this Version

Light Version

For practitioners interested in learning how to fall, this version contains only the most relevant skills and techniques.

 Including 6 Classes (over 3hrs of material)

Choose this Version
What you get
Content

- What is falling and how can we practice it?
- The Fear of Falling, ways into trust
- The Role of the Breath, learn to focus and to regulate arousal
- Moving in, across and out of the floor
- All about rolls, learn how to smoothly redirect momentum
- Conditioning and preparing the body
- Practical Ideas to confront fears

Additionally in Full Version

- About Beliefs and how they influence us
- Basic Application in Handstands, Acrobatics and Parkour
- Plenty of Partnergames to challenge your skills
- Balance, Reactivity and Spatial Awareness Practice

The Frame

- well designed, nicely structured 47 page PDF
- high quality prerecorded video classes
- in depth articles and theoretical background
- practice tips
- material that can be studied and unraveled for many months to come
Testimonials
Flynn Disney; Parkour Practitioner and Coach, Co-Founder of Pula Movement Group

"What I like about Nil's course is that he favours "explorations" over "exercises". This better represents the uncertainty innate in falling. I think that the real problem of falling is not solved by learning the techniques of rolling. It's only by adapting to situations that are unpredictable that we learn how to handle ourselves. This is where Nil's experience as an in-person teacher shines through. His use of partner work micro-doses falling, creating fun and spontaneous learning. By expertly layering different kinds of practices together, Nil's course gives far more than simple technical training. Instead, you can expect a deep reboot of how you relate to hard surfaces."

CP aka Denester; Parkour Practitioner and Coach, Founder of Project Diveroll

"Nil's Falling and Rising program is an absolute must-have! It's filled to the brim with interesting content and information. As a Parkour coach, I found some of the partner games really interesting and can't wait to try it. Nil's unique approaches to 'Falling' as a fun, trainable skill is definitely something any sportsperson (parkour, gymnastics, martial arts, any movement sport!) can benefit from. Also had the honour of guiding Nil through some more advanced dive roll techniques and it is a pleasure to witness his utilisation of falling techniques to break his fear. Learn from the real deal!"

Mathias Krabholm; Safe-Falling Teacher for elderly people

Wether you're afraid of falling or just want to improve your movement practice, this is definitely for you. Nil has achieved to break down the understanding of falls  and its numerous potentials. Moving and being a living creature in a complex world, is all about finding balance, Nil demonstrates here the line between comfort and fear, and how we can embrace that to navigate bether. If we dont risk, falling, what would our lifes look like? What other things would we keep ourselfs away from doing ? As an instructor teaching mainly elderly people how to fall more safely, I often hear how most the participants do not understand why they haven't learned it in an earlier age. Now is you chance! Being able to risk, learn and overcome is the true way to stand stronger. Great job, and very important job Nil! 
Who is the program for?
If you are involved in more chaotic practices where falling can happen easily, this program can be of great value to you. If you often feel timid and fearful, if you wish to be more grounded in your body and confident in your abilities, you will find many great tools here. And if you simply enjoy moving yourself in a variety of ways, if you love to learn something new and if you feel intrigued, this program has it all!
If you are unsure, simply read through the FAQ.
In addition, you can read and watch some free falling material here, maybe this will help you to see the beauty of this practice.
Free Resources
FAQ
I am a beginner and don't feel so comfortable yet, is this program for me?

Absolutely yes! This program is created for beginners as well as advanced practitioners. No matter which level you have, you will find plenty of interesting tasks, ideas and insights here.
Can falling be practiced?

Indeed it can! We can't master it or avoid it alltogether but we can reduce the fear of falling, study and learn falling skills and thus reduce injuries over time. Yes for longevity!
I am a therapist/trainer, has this value for me?

Indeed yes! My aim with this program is also that teachers, trainers and therapists can use the material in their work and thus guide students/patients through fear, uncertainty and help them become more resilient and confident.
What will I learn in the program?

You will be introduced to practical and extremely fun skills like rolling, moving across the floor, sliding. You will learn how to use your breath as a tool to regulate anxiety and arousal and generally how to find more confidence in yourself. For all other contents, just look at the product description!
Will I learn many Acrobatic moves in this program?

No. You will learn basic rolling techniques, some applications to acrobatics but if you are more interested in this type of practice, I highly recommend my Finding Flow Online Programs.
Are there follow along classes?

Yes! This program contains high quality follow along classes and prerecorded videos for you to study. Apart from that you will find articles and other educational material.
How ofte should I practice?

I recommend to practice 2-3 times a week for about 30-60 minutes. Additionally you can and should repeat the learned skills as often as you can and integrate them in your sport/daily activity so you have them handy when in need!
Do I need special equipment for this program?

You need only free, open space to practice in, indoor or outdoor. If you have access to softer floor like grass or mats, even better. You also need a trusty partner or friend for all the fun partner games.
Can I ask you for tips/help if I don't get along?

If you are part of the Finding Flow Mentorship Program or an Online student in my Online Support, you definitely can send videos and receive personal feedback. If you simply purchase an online program, you can ask questions if something is unclear but there is not option for coaching/feedback.
I have more questions/I am unsure.
From Falling to Flowing
Dive into my Finding Flow Online Programs to transfrom a falling practice into an artform.